FLEXMAIL 02-2020
22. February 2021
Welcome to our Flexmail 12-2020!
Merry Christmas and Happy New Year 2021!
Merry Christmas and Happy New Year 2021!
Unplug the plug, be mobile!
One Year Warranty on 33 years old crimper!
Thank you for participating in Bauma China 2020
UNIFLEX wishes you a Merry Christmas and a good start to 2021
Dear business partner,
as is known, there is opportunity in every crisis. In 2020, we have had ample reason to think about this, and have come to the conclusion: That`s correct! We also realized that we could rely on our customers 100%. Thank you very much for your unwavering faith in us throughout this difficult year!
We wish you a Merry Christmas with your loved ones and a good start to a hopefully less unsettling year!
Sincerely,
Your UNIFLEX Team
Unplug the plug, be mobile!
UNIFLEX hose crimpers and cutting blades with battery mode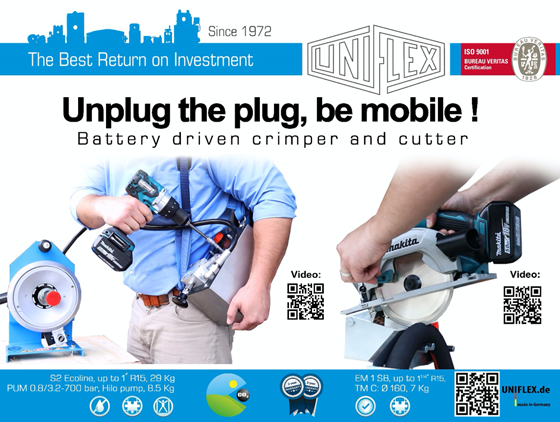 The mobile high-pressure aggregate from UNIFLEX achieves 700 bar with a cordless screwdriver: a truly magical box!
With an innovative high-pressure aggregate, UNIFLEX now offers a convenient accessory, i.e., an ingeniously simple external drive!
Link to fact sheet
Link to video
New: The first battery-driven hose cutter from UNIFLEX
For unbeatable mobility: The new battery-driven EM 1SB cutting machine from UNIFLEX cuts hydraulic and industrial hoses up to an outside diameter of SAE R12 1 ¼" like a hot knife through butter.
UNIFLEX One Year warranty on 33 year old crimper!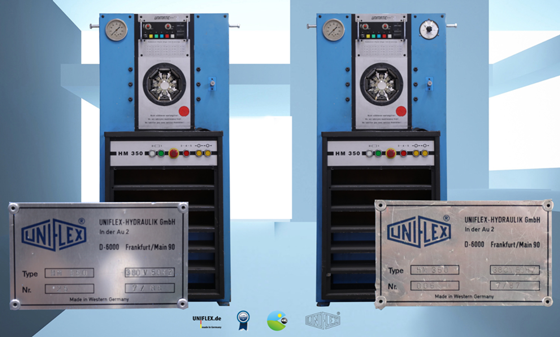 In the past, washing machines could be used for 30 years, and diesel taxis could have 1 million km on the clock. This kind of quality is still offered by UNIFLEX – thanks to our grease-free slide bearing technology. The crimpers shown in the image below were manufactured in 1987 and 1989, have been completely overhauled, and are now for sale almost as good as a new, with a 1-year warranty!
On top of that, our long-life machines are eco-friendly and reduce emissions in comparison with machines having short life cycles!
All over the world – a 1-year warranty on used machines:
Thank you for participating in Bauma China 2020

International trade fair for construction machinery, building material machines, mining machines and construction vehicles.